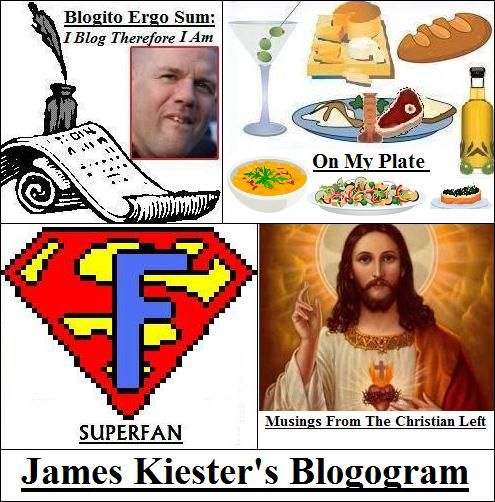 | JamesKiester.com |
Hey There Compatriots,

It's your favorite opinion writer, James Kiester. This week I've posted my review of MSNBC's What's Eating America and some interesting thoughts on angels & aliens. Enjoy.
Reading List
Blogito Ergo Sum: Updated - 02/05/2019
In the wake of the president's acquittal, drop by Blogito Ergo Sum to learn how, "The Sale of GOP's Soul Costs Us All."

---
On My Plate: Updated - 02/22/2020
Visit On My Plate for a reviews of MSNBC's What's Eating America to see what happens when, "Food & Politics Collide With Andrew Zimmern At The Helm."

---
Super Fan: Updated - 02/07/2020
Learn what I think of CW's DC Comics lineup in, "Super Fan: Arrow-verse Strikes Multiple Targets," & read my Spotlight on Star Trek: Picard.

---
Musings From The Christian Left: Updated - 02/20/2020
Learn why I don't like angels being written off as ancient aliens in, "Musings From The Christian Left: Angels Are Angels."
Support These Blogs
Support Blogito Ergo Sum:
Not only is the Legislature embroiled in impeachment proceedings, but the weather is showing signs of climate change. You can visit My Book Store to put current events into perspective by reading about the history of impeachment and the dangers of climate change. Then browse a selection of my favorite books.
---
Support On My Plate:
Visit My Culinary Shop where Iíve compiled a list of gourmet treats and food related materials, which I relish. I think you will too. Looking for something else? Enter your own search terms to shop for any kitchen/food related item Amazon carries.
---
Support Super Fan:
Visit my Fan Shop where you'll find a list of some of my favorite graphic novels, shows, and movies.


---
Support Musings From The Christian Left:
There have been books and movies which have inspired me on my spiritual journey. Iím making those resources available for purchase in my Christian Resource Store.


You are receiving this update because you emailed James via the link on his site, and/or you expressed an interest in his blog. If you'd rather not receive future updates, simply reply to this message, with the word "off" in the subject header, and do the chicken dance for three minutes around your desk.
---