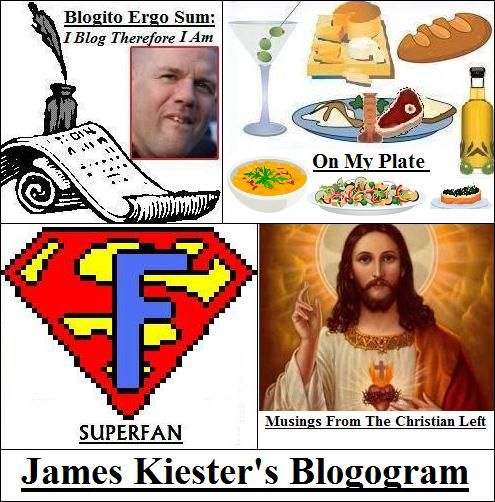 | JamesKiester.com | Newsletter Archive - (Beginning week of 04/07/2019) |
Hey There Compatriots,

This week I've in my food blog, I discuss why people cook instead of relying on prepackaged meals. Then, in my Christian blog, I talk about the importance of being our brothers'/sisters' keeper. Happy Reading!
Reading List
Blogito Ergo Sum: Updated - 04/12/2019
I wanted to write about the Mueller report, but such a blog would've been futile. Learn why in, "Blogito Ergo Sum: Why I Can't Write About The Mueller Report."

---
On My Plate: Updated - 04/19/2019
Recently, someone asked, "Why do some people cook?" You can read my answer in, "On My Plate: Why We Cook."

---
Super Fan: Updated - 04/04/2019
Marvel has begun this year's mega crossover event. Find my advice on how to read it in, "Super Fan: Enjoying War Of The Realms."

---
Musings From The Christian Left: Updated - 04/19/2019
This time I share my thoughts on Christian generosity & compassion in, "Musings From The Christian Left: My Brothers' (& Sisters') Keeper."
Support These Blogs
Support Blogito Ergo Sum:
Now that Mueller has wrapped up his 22 month investigation, you can visit My Book Store to put current events into perspective by reading about other White House scandals. Then browse a selection of my favorite books.
---
Support On My Plate:
Spring is here, and summer won't be far behind. Visit My Culinary Shop to browse a selection of new outdoor recipes . Then browse a list of my favorite edible goodies.
---
Support Super Fan:
Visit my Fan Shop where you'll find a list of some of my favorite graphic novels, shows, and movies.


---
Support Musings From The Christian Left:
There have been books and movies which have inspired me on my spiritual journey. I'm making those resources available for purchase in my Christian Resource Store.


You are receiving this update because you emailed James via the link on his site, and/or you expressed an interest in his blog. If you'd rather not receive future updates, simply reply to this message, with the word "off" in the subject header, and do the chicken dance for three minutes around your desk.
---